NEWS FEED
Presenting new eXXtreme3D Team, Dota 2 Team
written by
Angusoid
- 17.11.2012
---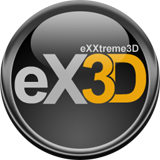 eXXtreme3D Managment is proud to present our new EU based team, a new part of our family, dota2 squad.
EX3D Dota2 Rooster:

Matej '
ICE
' Grcar

Zeljko '
W3RT
' Ivanovic

Alexander '
cpt.pl4n3t
' Kvamme

Lester '
Crunch
' Zawadzki

Billy '
Skonh
' Pady
You can read our short interview with our dota2 team captain "Zeljko 'W3RT' Ivanovic."
Q: Please tell us how long have you been in dota world, what made you start playing it competitive?
W3RT:
Hello Guys. I'm W3RT leader of eX3D DotA 2 team. I'm dedicated dota player and I started playing DotA 1, suggested by a friend, just for fun. After some time I got deeper and deeper in the world of DotA. So basically I've started to play in 2010 and now here I am. With, let's say 8-9 months of DotA 2 and almost 2000hr of play. To answer 2nd part of the question well. I'm the guy who really love what he's doing. So why not go competetive? As all people, we need to sacrifice a lot of time for sucess, but again it's worth cause you are doing something that you love.
Q:
Your team mates, how long you know each other, was it hard to form a stable team?
W3RT:
Well we are playing together like a month, maybe little more, that's few hundred good games together. We took the step up after more than 3 months changing the unoffical rosters and recruition of players, currently it's really hard to build stable team which have similar desires and also time for practicing, not to talk about individual skill and how good sinergy is between players and energy behind team... So for the first time we think that we satisfy all the categories I've described. Still we need a LOT of practice and playing together, but we have really nice foundation that needs to be paved...
Q: What current leagues/tournaments are you attending or awaiting for?
W3RT:
We have already played 2 tournaments as an unoffical team and we got some wins already and some loses ofc. Our priority is Asus Qualifications #3, next week, meanwhile 4PL and qualifications for the Defence. We have pretty high expectations, what is kind of unusual for new teams, but we are looking forward to play. If we have any bigger sucsess in those tournaments you will be informed of course, till then wish us luck!
Q:
Do you think you can make into the top and what are your's expectations?
W3RT:
Well, I know it's to early to say anything but yeah... When I forget that we suck, I can imagine us in top hehe... Well, the way we cooperate together, my expectations and wish is to be at TI3 (the International 3), but looking into near future... well, to win couple of small tours and to be at the top in stronger ones are our real expectations and most of all to stay together through tough times!
Q:
Do you have support from your family or friends?
W3RT:
To say the truth.. No.. I dont have any support from my family what is really sad, but I'm fighting to do what I actually like. So I suggest to all others the same. Don't try to do something that someone want's you to do, do what you think is the best for you and what you enjoy doing! About my friends, some of them understand me, some of them can't, but no hard feelings. smiling
Q:
Any last words, some tips for new players?
W3RT:
This is probably my best part. Don't try to be Hero trololol... I would suggest to all new players of DotA2 to see some guides, videos, to find themselfs in some roles. Shoutouts to whole eX3D onward to "Angusoid" who don't want to give me pictures i want amused shoutout to my lovely team: Ice - Slovenian PubStar guy who actually knows a bit of serbian and who recognized some bad words i say in game on serbian..Skoni - Greek guy with annoying greek accent also i would say to him through this to buy some new wards.."Cpt.Planet" - he's our grampa as he's oldest among us also he's our main guy for porn investigation.."Crunch" - our Solo Mid or Feed guy..He's fan of breaks legs and arms on his skateboard..Shoutout to all my friends like my brother and also my manager who is advertises me..also to "Sutke,Chaki,Ckodica,IgorS,Babic,"i almost forget our StandIn player who helps us when we need "Nork" and on the last spot my ex teammates and other followers that reading this!
---